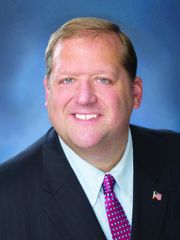 By Supervisor George Hoehmann
I'm a fan of classic movies from the golden age of Hollywood. One of my sleeper favorites is from 1943 entitled "George Washington Slept Here," and stars the late great comedian Jack Benny and Anne Sheridan.
It's a clever comedy about a New York couple that buys an old, dilapidated house in the country that George Washington purportedly slept in. The couple encounters complications and cost overruns, nearly going bankrupt, trying to refurbish the house. The movie has plenty of humorous plot twists, including the revelation that it was actually the traitorous Benedict Arnold who stayed at the house. In the end, the couple's dog discovers a boot and a letter from George Washington, which provides the cash needed for them to complete the renovations. It's a delightful movie with some creative writing and is well worth seeking out on TV or a streaming service.
That movie and President's Day prompted me to think a bit about the connection our town has with several of our former presidents. While documentation is scant on some visits to Clarkstown, it has had its moments with presidents including George Washington, Martin Van Buren, both Roosevelts and numerous others who passed through.
Rockland County has often been referred to as the highway of the American Revolution where both the American and British armies passed through or stayed for periods of time on the way to major engagements. Washington himself passed through Clarkstown both during and after the revolution. While it doesn't appear that he slept in a particular home in our town, he did journey through West Nyack and his army camped here on the way to the final battle in Yorktown, Virginia.
Seven presidents have called New York home. The first, President Martin Van Buren, visited and purportedly stayed at the Clarksville Inn in West Nyack while traveling through New York. Van Buren, who was president from 1837 through 1841, has the distinction of being the first sitting president that we have records documenting his visit while in office.
The most interesting presidential visits came during the 1976 presidential campaign, when sitting President Gerald Ford and challenger Jimmy Carter came to campaign in New City. While Washington may not have slept here, plenty of commanders-in-chief have passed through Clarkstown to campaign and in the region for other major events, which have left their mark on our country.