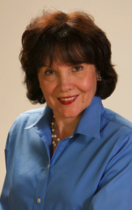 Who are some of the best? And what will they come up with next?
BY DR. LOUIS ALPERT
This second article in our series features Mrs. Elizabeth P. Vallone, a writer of historical fiction, who has lived in Rockland County for 40 years.
Mrs. Vallone's last two historical novels include "Barbarossa's Princess" (book cover pictured), Idea Publications, and "Heaven, Hell and Hoboken," Idea Press.
Below is a quote from both Vallone's press releases regarding these two historical novels:
Mrs. Vallone is "a contributing author to the anthologies imprints on Rockland County History (1983) and Curragia: Writings of Italian-American Women (1998). Mrs. Vallone previously published 'Stone Perpendicular to Stone-A Tribute to the Land of My Ancestors' in 1997, and 'Beyond Bagheria,' her first historical novel in 2005."
"Heaven, Hell and Hoboken" is her third work of historical fiction. For 2016, Mrs. Vallone is preparing a work of non-fiction based on the life of Hezekiah Easter, the first African-American legislator in Rockland County."
It is most significant that Mrs. Vallone has spent her life as a teacher and could impart her great skills as a writer to our youth.
This article ends with a "correction" requested by the author featured in the first article in our series, Noel Carter, whose professional name should be listed as Noel Vreeland Carter, which is used in all of her writings. The correct name of her recent book is "The Schlock Shop Murder Case."
At Noel's further request, this Ombudsman is also requesting an agent to represent her due to the untimely death of her previous long-time agent. Please address all questions and comments to [email protected].