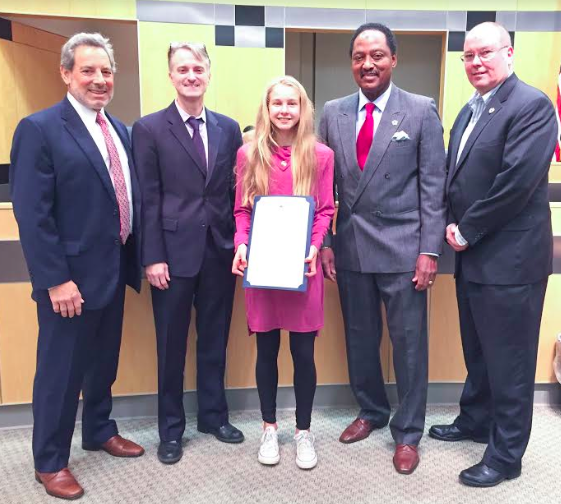 Student-athlete Katelyn Tuohy has been honored by the Rockland County Legislature for her exceptional achievements in the classroom and on the cross-country trails.
Katelyn, a sophomore at North Rockland High School, is the No. 1 high school female cross-country runner in nation.
"Katelyn makes all of us proud," Legislator Michael Grant said. "Her accomplishments to date are simply outstanding. We're here in recognition of her national title, but beyond this accomplishment, Katelyn also has a 100.5556 GPA, which is absolutely astonishing."
"This young lady works hard," Legislator Grant added. "We're going to be rooting for her for a long time to come."
Grant (D-Garnerville) was joined 
Tuesday
 by Legislature Chairman Toney L. Earl (D-Hillcrest), and Legislators Christopher Carey (R-Bardonia) and Jay Hood (D-Haverstraw) for a ceremony where Katelyn was publicly recognized for her achievements.
Carey, himself a former high school cross-country and track athlete, has been following Katelyn's impressive athletic career.
"What Katelyn is doing now as a sophomore is virtually unheard of," Legislator Carey said. "We're really proud and really amazed and we can't wait to watch her progress further."
Legislator Carey also praised Katelyn's coach, Brian Diglio, for his efforts in helping the young runner manage her training.
Legislator Jay Hood extended the praise to Katelyn's supportive parents, Denise and Patrick.
"Being so young and having done so much already, it's really amazing," Legislator Hood said. "I think we would be remiss if we did not honor your parents and all that they do…Congratulations on everything."
On behalf of the 17-member board, Legislators Grant and Earl presented a proclamation that designated Dec. 19 as Katelyn Tuohy Day in Rockland County.
Katelyn is a member of North Rockland High School's Cross-Country Team. She enjoyed record finishes this year to capture the Girls' New York State and New York State Federation titles.
Her biggest athletic accomplishment came Dec. 2 in Portland, Ore., when she broke the record at the Nike Cross Country National Championships to win the Women's 5000 Meters with a time of 16:44.7. Five thousand meters is roughly the equivalent of 3.1 miles.
Katelyn, who was undefeated this season, isn't the only runner in the family. Her brother Patrick, a senior at North Rockland, finished seventh in the States this year, out of a field of 108 large-school runners. The sister and brother duo were each presented with the Journal News/lohud Rockland Cross-Country Runner of the Year Award.