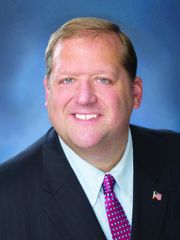 By Supervisor George Hoehmann 
Last week, I was proud to announce a historic agreement for the town to purchase the Rockland Country Day School campus in Congers, which will add an additional 20.5 acres of public land adjacent to the town-owned 33.5 acre Kings Park.
I have made preserving, protecting and enhancing Clarkstown's quality of life my number one priority.   The agreement with Rockland Country Day School ("RCDS") is another step in protecting Clarkstown from overdevelopment while providing our residents additional recreational amenities and facilities. For RCDS, it is an opportunity to look to their future while maintaining the excellent reputation it has as an excellent educational establishment and important Rockland County institution. We will work to develop a plan for the Town's use of the property in the upcoming months.
The property and school have a lot of history and have been part of the fabric of Rockland County and Clarkstown for nearly sixty years. The school's history and evolution in the town is interesting, especially as the town considers future uses for this lovely, bucolic campus.
Rockland Country Day School was established in 1959 as a Pre-K through Grade 12 School by a group of community leaders led by Professor Charles Frankel of Columbia University.  RCDS was originally located in South Nyack, but quickly outgrew that site.  The school then moved to its present location in Congers, which has a particularly an interesting history of its own.
The campus was originally a working, "gentleman's farm" owned by Wolcott H. Pitkin.  The last surviving member of the Pitkin family, Dr. E. Winifred Pitkin, was a pioneering woman of medicine who converted the use of the property, particularly the barn, into a medical clinic.  Dr. Pitkin began her medical career as an obstetrician/gynecologist and expanded her practice to include pediatrics.
When RCDS took control of the property, they renovated the barn and other buildings to meet their needs and the campus evolved and grown since then to include four other buildings that have inspired generations of students to excel in many fields. RCDS has produced a number of noteworthy athletes, scholars, lawyers, judges and, in particular, those engaged in the arts.
An example of this is found in early graduates of the school, like Emmy and Tony Award winner Tyne Daly.  Contemporary examples include Sebastian Stan, who gained fame in the "Captain America" movies and Isabel McCalla who just last week began her own run as the lead role of "Jasmin" on Broadway's "Aladdin."
RCDS graduates—like the school itself—have learned to adapt and pivot in life, like Sarah Kramer. Sarah Kramer graduated RCDS in 2003 and starred on Broadway as the lead role in "Mama Mia." She eventually reinvented herself as a celebrated New York chef before moving to Los Angeles where she opened one of the hottest new restaurants, called Kismet.
RCDS is a place that has educated thousands and helped shaped them to be impactful people in society. Though the school is entering a new chapter in its history, RCDS will undoubtedly adapt, reinvent and continue its mission for the next sixty years and beyond.
I want to thank the leaders of RCDS for entering into this agreement with Clarkstown so that this extraordinary piece of land known for its natural beauty and historical importance can be preserved for future generations of residents to enjoy.