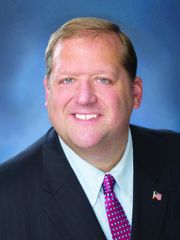 By Town of Clarkstown Supervisor George Hoehmann
It's hard to believe, but spring is here, and with it, a lot of discussions about what projects should be done in and around the house. Is this the year you finally remodel the bathroom, or is it way past the time to repave the driveway? Can we pay for one or both now or should we finance it?
Those are the same kind of questions the town asks when it considers long-term investments in infrastructure, which we call our Capital Plan. A Capital Plan provides the town with a framework by which we consider borrowing money for costs that can't be covered by our day-to-day budget.  It's akin to financing for a new boiler or roof for your home. It's a good, maybe necessary investment. It's not like you're using a credit card to pay for your cable bill.
As Supervisor, I take the concept of bonding (i.e., borrowing) for any project very seriously. Quite frankly, the amount of debt the town was taking on for a number of years was getting out of control. The town's total indebtedness climbed 35% (not a typo!) from 2010 to 2014. I ran on sharply reversing course by committing to borrowing less annually than the debt we retire each year. The result? The town's total indebtedness since I took office is down nearly $5 million.
It was with that context that the town discussed its 2018 Capital Plan at its last Town Board meeting. We also contemplated and envisioned a five-year plan. Working collaboratively with our professional staff, we identified projects that rehabilitate, replace, or enhance the town's infrastructure to promote the long-term health, safety, and happiness of the people of Clarkstown. Many times, those investments are well worth it when the alternative may be an inaction that costs a lot more in the future. I also continue to aggressively seek federal and state grants to defray the costs of projects, which in some cases, leads to a total cost of zero ($0) to the taxpayers of Clarkstown.
Our 2018 Capital Plan includes projects related to the paving of our roads, park facility enhancements, heavy machinery replacement, information technology upgrades and important drainage and flood mitigation projects.  In the coming weeks, I plan on describing them in greater detail.
If you'd like more information about our 2018 Capital Plan, please reach out to my office.