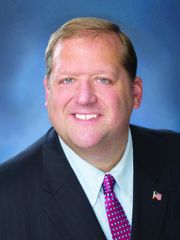 By Town of Clarkstown Supervisor George Hoehmann
Over the last few years you may have heard the term TOD. What is TOD and what does it mean for the Town of Clarkstown?
TOD stands for Transit Oriented Development and focuses on providing an innovative mix of commercial and residential uses centered on transit hubs and linked together with pedestrian amenities and networks. The goal of TOD is to create a plan that supports a walkable neighborhood that will provide new workforce housing, encourage public transit use, create jobs, and strengthen the local economy.
The hamlet of Nanuet is uniquely poised for redevelopment. It's the closest commuter rail station in Rockland County to the new Tappan Zee Bridge and is strategically located near the junction of the New York State Thruway, New York State Route 59, and the Metro North rail line operated by New Jersey Transit. In order to develop the hamlet center as a prime locale for housing, commuting, shopping and leisure, Nanuet's transportation, pedestrian, drainage and electrical infrastructure, especially in the area of the rail station, needs to be improved.
Many of you may be familiar with towns along the New Jersey rail line such as Park Ridge, NJ.  Some of those towns have successfully developed TOD projects and it has really been good for their local economy, both residents and businesses.
Clarkstown is currently in the process of developing a plan for a Nanuet Transit Oriented Development project. Within the Nanuet Hamlet Center, which is home to the Town's only commuter rail stop, new zoning is being developed to better reflect and reinforce the traditional main street layout of the area and provide the opportunity for mixed-use development and a variety of housing options for residents seeking to live near, and utilize, the rail stop.
As we've been developing our plan over the last several years, we've been meeting and collaborating with Metro North Rail Road and New Jersey Transit, as well as the New York Metropolitan Transportation Council, local property owners, residents, businesses, the Nanuet School District, Nanuet Civic Association and the Nanuet Chamber of Commerce.
This project will be an economic development opportunity not only for Clarkstown, but for the region. It will provide housing for seniors and young people starting their careers. It will provide a much needed shot in the arm to Nanuet and Clarkstown's tax base.
I'm excited for the redevelopment of Nanuet and all it has to offer the Town of Clarkstown. I look forward to continue working with all the stakeholders on this great project.