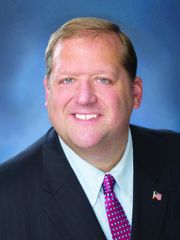 By Clarkstown Supervisor George Hoehmann
The mere mention of "Valentine's Day" can evoke a number of reactions. For some, it's a celebration of the romantic spirit and magnetic forces that drive people to love each other. For others, it's a day of impulsive purchases capped off with a few sweat-induced moments of panic in a greeting card store. Like all holidays, it's what you make of it.
For me, the true hallmark of the holiday are those fortunate times in the not-so-distant past when one receives a handwritten (the more crayons used, the better) Valentine's Day card. Sometimes you rediscover them when you're looking through papers in a box or drawer. You never throw those ones away and you look forward to encountering them again.
I was reminded of that last week while witnessing the smiles of local veterans as they opened Valentine's Day cards from students at Little Tor Elementary School. The Valentine's Day greetings came as a complete surprise to the members of the Clarkstown's Memorial Day Committee, who were meeting at Zukor Park. The content of the cards were typical in some ways. For example, there red crayons were used to draw many hearts. But there were American flags and bald eagles drawn as well.
The students of Little Tor Elementary School had a simple, direct message for our veterans: "We love you and thank you for your dedication to and love of our country."
The event was organized by our Parks and Recreation Superintendent and warmed the hearts of all in attendance. Usually, the Little Tor Elementary students prepare these Valentine's Day greetings and have them delivered on their behalf. But this year, the idea was to do something different—something more personal.
Watching the bridging of these two generations of Americans stirred my emotions and made me feel even more grateful for the service our local veterans provided to our country. No matter what day it is—even on Valentine's Day—we should all remember to express our gratitude to those who chose to serve, protect and defend our ability to enjoy the blessings of liberty.
The students of Little Tor Elementary are a part of those blessings and they certainly made the best of this holiday. I hope you did too.