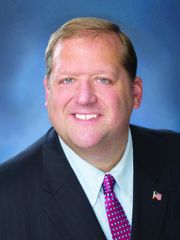 By Supervisor George Hoehmann
People of a certain age will remember the weight that having the "Good Housekeeping Seal of Approval" had for all kinds of services and products. It was the kind of currency that a business would spend ample time and resources acquiring, understanding that it meant something valuable to the consumer.
We all know that the Clarkstown Police Department is a well-respected, professional, and dedicated law enforcement agency. You see it every day. But what you might not know is that the Clarkstown Police Department is one of very few departments in the state that has that kind of seal of approval that only a precious few departments in New York State have. For nearly twenty (20!) years, our Clarkstown Police Department has achieved accreditation from the NYS Division of Criminal Justice Services Law Enforcement Accreditation Program and will now be accredited through 2023. Of about 500+ police agencies in New York State, only about 150 are accredited.
A few weeks ago I traveled with Chief Ray McCullagh and his accreditation team to Albany to receive this great honor. Surprisingly, not all police departments are accredited and very few are accredited for over twenty years like ours. In order to receive the accreditation from the Law Enforcement Agency Accreditation Council a department must successfully meet all 181 standards. You read that right: excellence in 181 public safety standards.
The department went through a 3 day on-site evaluation by assessors from the NYS Division of Criminal Justice Services Law Enforcement Accreditation Program. This evaluation was to determine whether or not CDP had maintained the high standards of the Accreditation Program for the past five years. After an exhaustive inspection of our policies and internal documents, as well as interviews with members of the department, Clarkstown Police was found to be not just in full compliance, but compliant in an exemplary fashion.
Accreditation is a process that challenges police agencies to constantly evaluate and improve upon their overall performance. It provides formal recognition that an organization meets or exceeds general expectations of quality in the field. Accreditation acknowledges the implementation of policies that are conceptually sound and operationally effective.
Once again, congratulations to Chief McCullagh and all the men and women of the Clarkstown Police Department for continuing to maintain its high standards and standing as one of the finest police departments in the country! The accreditation speaks volumes about the professionalism and dedication of our officers to the Town and people of Clarkstown.