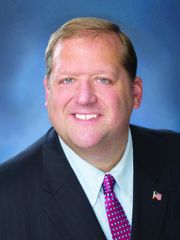 Even in the lazy, hazy days of summer, we all find ourselves pressed for time. There's never enough—we would all like to find more time to do things not just for ourselves, but also for people in need. You want to help out, but where is the time?
If that sounds like you, I have a great solution that will not only HELP other people, but provide you with a chance to have a FUN time for FREE.
My office has teamed up with the New York Blood Center to host a local blood drive at Town Hall, 10 Maple Avenue in New City on the 3rd floor, this Monday, July 30 from 2-8 p.m. If you're able, I ask you to please take an hour of your time to help save lives through blood donation. Donors are encouraged to sign up for a time to donate by calling the Supervisor's office at 845-639-2050 or going online to www.nybc.org. Walk-ins are welcome too.
Donating blood is the most time efficient way to make a tremendous impact for the lives of others. In fact, one blood donation has a multiplier effect of saving more than just one life, because your blood can be separated into individual components. A blood emergency has been in effect since late June in our region as people enjoy summer vacation and activities. However, the need for blood never takes a vacation. The New York Blood Center reports that Types O+, O-, B- and A- are all at critical levels and the overall blood inventory is hovering around a four-day supply. In order to maintain a safe blood supply, a seven-day inventory of all blood types must be continually replenished.
As a special incentive to donors, every presenting donor will have the opportunity to see a Mets home game at CitiField for FREE! After the drive, donors will receive a voucher by regular mail. Each voucher is redeemable for two tickets to see the Mets. There will be a choice of available game dates and seats. Let's face it, there will be plenty of seats available. (I feel your pain, Mets fans.)
So come on out to HIT A HOME RUN for our community blood supply! Join me and help save a life. You'll be glad you did.