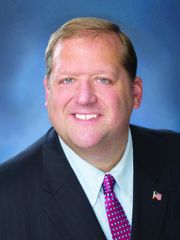 By Supervisor George Hoehmann
Weekly column
It's hard to believe summer has come and gone and we are now in our first week of school. As we kick off the school year, I wish all the students and teachers across Clarkstown a very successful year ahead.
I wanted to take this opportunity to let the community know how very fortunate we are to have an exceptional police department and a good working relationship with the school districts in our town in order to improve safety for our children.
Shortly after the Parkland shooting earlier this year, we convened a meeting of the School Superintendents and their safety teams to meet in my office with the Clarkstown Police Chief Ray McCullagh and his team. It was a first ever meeting of its kind where a lot of information was shared between the town and the districts.
As a result of that and other meetings, Clarkstown Central School District and the Town agreed to add additional safety staff with the addition of three new School Resource Officers (SRO's) in the Upper Schools, as well as safety reviews of all districts in the town.
All of our SRO's are certified by the National Association of School Resource Officers (NASRO). NASRO is dedicated to providing the highest quality of training to school-based law enforcement officers to promote safer schools and safer children. NASRO is an organization for school-based law enforcement officers, school administrators, and school security/safety professionals working as partners to protect students, faculty and staff, and their school community.
Starting this school year there are two SRO's at Clarkstown North, South, and Felix Festa respectively; there is one SRO at Nanuet High School, Nyack High School and BOCES respectively.
All Clarkstown SRO's attended NASRO training and work with the school administration to provide a safe and protected environment for the students as well as building a relationship with the students to enhance police/student interactions. Clarkstown Police Department has become a leader for school safety in the area and helps other towns coordinate emergency drills and safety plans under the leadership of Chief McCullagh and Lt. Dietrich.
We are very fortunate to have such a dedicated and experienced police department working with our local schools to keep our children safe.