North Rockland harriers prepping for another run
       Scholastic football practices enjoyed a head start on other sports as Section 1 pushed up the schedule a week, but other openings, other shows got under way earlier this week.
At North Rockland High School, the boys cross country team under Coach Chris Lent of Nanuet has been holding two-a-day sessions that will continue for a second week in preparation for filling out the fall lineup.
The girl's team, under the veteran 15-year stewardship of Coach Brian Diglio, is also prepping while faced with the challenge of competing for a while without injured standout Haleigh Morales.
"We're under way, already pointing to the Red Raider Run," enthuses Coach Lent, making reference to the season opener September 8 at 4 p.m. at the venerable Bear Mountain State Park layout.
Coach Lent, now in his second season at the helm following five years coaching at the modified level, is running the team with help at times from Diglio, who has his own responsibilities coaching the girls contingent.
Diglio's team was aiming for three straight county and Section 1 championships, but that quest now seems unrealistic following the injury to Morales, a sophomore whose stress fracture will require a boot for about a month.
"There's no replacing Haleigh, [the injury] really weakens us," Coach Diglio notes. "With her, we had a good shot at winning the county and section three straight times; without her, I can see Pearl River beating us—they have a very good team."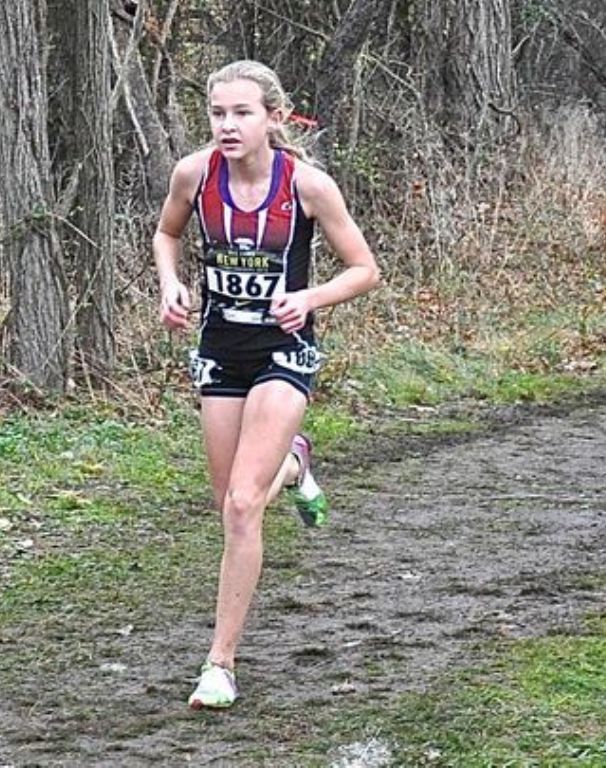 Yet the team, which placed second last year to Cornwall at the Red Raider Run, is not without another star, who is also just a sophomore and who is also coming off an outstanding year: namely Kaitlyn Tuohy, the younger sister of Patrick Tuohy, who spearheads the men's team.
Last year, Kaitlyn was an all-American at the cross country nationals in Portland, OR, placing 13th in a field of the top 60 runners representing the top 22 teams in the nation.
"She's very, very good," lauds Coach Diglio, adding that Tuohy was the national outdoor champ in the mile with a freshman record of 4:41; and the state champ in the 1,500 outdoors, with another freshman standard (4:18). "She's unbelievable."
On the indoor circuit, Tuohy ran a 4:45 anchor leg as the Red Raiders were crowned a national champion in the Distance Medley Relay at the Armory in upper Manhattan.
Morales, who Coach Diglio is hoping might be back in time for the championship season the end of October, placed third indoors in the state 3,000 in 9:59, and outdoors placed in the top 10 in the steeplechase at UNC Greensboro in North Carolina.
As the coach tries to fill out the starting lineup, four names come into play: seniors Kerry O'Connor and Noelle Feeney; sophomore Catherine Ruffino; and freshman Britney Pezzementi.
Boys to defend title
Coach Lent, a North Rockland alum who competed for legendary Coach Gene Dall in the 90s, noted that the boys are the defending champion at the Red Raider Run, where Cornwall is once again considered to be a major threat.
The Red Raiders present a formidable 1-2 punch in the senior Patrick Tuohy and sophomore Daniel Shephard, but must replace four scorers who were lost to graduation including Dylan Serino, primarily a miler and 2-miler who will be competing as a freshman at Iona College in New Rochelle.
"We're basically rebuilding after the top two (runners)," said Coach Lent, who will be conducting 5k time trials to help determine the new face of the team.
Tuohy, of course, is the team leader as a senior. He was all-League and all-County last year, missing out all-Section accolades by a point.
"He has a good shot to go to states, based on his performance last year and his efforts in the spring," Coach Lent observes. "He's been training all summer and looked good on the first day [of practice].
The No. 2 puncher has to be Shephard, who had a breakout season as a freshman last year, working up to No. 3 on the team going into the Section 1 championships.
"Danny was in the top 20 at sections; ran really well," Coach Lent recalls. "After [the 1-2 punch], we have a few guys vying to be scorers."
Coach Lent mentioned two guys who were in the top 8 last year—seniors Bladimir Pena and Eddie Peralta.
Coach Lent notes that Pena placed in the top 5 in the steeplechase in the spring, and has run a 4:40 mile, and that Peralta wound up earning honorable mention all-County honors last year.
"They peaked at the right time, and both of them have been working hard," Coach Lent continued.
The hard work, however, does not surprise the coach, who wrestled one year in college and ran to stay in shape.
"Cross country kids are great," Coach Lent enthuses. "They are reliable. If something is wrong they won't just disappear."
In addition to the Red Raider Run that North Rockland hosts, Coach Lent said the annual Manhattan Invitational, held in early October at Van Cortlandt Park in the Bronx, is always a big meet on the regular-season schedule.
WHERE ARE THEY NOW
Former high school and collegiate volleyball standout Meghan King of New City, a 2015 graduate of The College of New Rochelle, is now doing her best in support of West Point athletics after being hired by Aspire Group.
King, who continues to coach with Alpha Gamma Volleyball Club, is a service and retention consultant for Army West Point Athletics Fan Relationship Management Center.
Prior to joining Aspire, King, a communication/sports marketing major at CNR, completed a two-year internship with the independent league Rockland Boulders professional baseball team based in Pomona.
In addition to coaching King, who was graduated from Clarkstown North, maintains her status as an "active" player in adult volleyball and softball leagues with other employees at West Point.
(Ed note: This segment, 'Where Are They Now', will be presented on a semi-regular basis. Anyone who would like to assist is asked to send information to [email protected]. Thank you.)
COLEGIATE CLIPS
Vincent Vasquez of Stony Point returns is a senior member on the men's cross-country team at St. Thomas Aquinas College in Sparkill. The Spartans will also feature sophomores Kyle Kondracki and Aiden Russell, both of Pearl River; sophomore Mitch Philistin of Spring Valley; and sophomore Stefan Saeed of Stony Point. The women's team includes seniors Angelica Matwiejczuk of Suffern and Kara Santa Teresa of Nanuet, and sophomore Aida Torpey of Tomkins Cove. Both teams are primed for the annual Fordham Fiasco at Van Cortlandt Park in the Bronx, set to start at 10 a.m. on September 9. Competing for the Fordham Rams are Pearl River High School alum Brian Cook, a senior, and freshman Dylan Serino, who was a standout at North Rockland High School.
Marisa Bentley of Blauvelt is a senior forward on the women's soccer team at Iona College in New Rochelle, The Gaels, who dropped their first two games to Army and Stony Brook, are home on August 27 to meet LIU Brooklyn at 11 a.m., and stay home on September 1 against Albany at 3 p.m.
THIS & THAT
The Joe Dugandzic Memorial Barbeque Fundraiser will be held on September 9 at Kennelly's Grill House (962 South Route 9W, Congers) from 1-5 p.m. Dugandzic, a member on the 1980 Pearl River High School state championship cross country team, later coached for the Pirates, at Clarkstown South High School and at St. Thomas Aquinas College in Sparkill. Dugandzic passed away in January from a heart attack at the age of 52 leaving his wife, Maureen, and two college-aged children, Kerry and Richie. Contact Kevin Mahoney at 914-548-8160 or at


[email protected]

.
The 5th annual Game Changers Conference will be September 14 at the New York Marriott Marquis in Times Square. The Game Changers Conference is a one-day event that will focus on the multiple ways in which women intersect with sports. http://www.sportsbusinessdaily.com/Conferences-Events/2017/GC.aspx