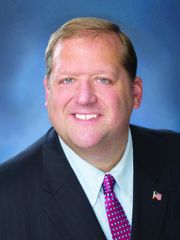 By Supervisor George Hoehmann
As Mother's Day approaches, I think about all the moms in my life and what they mean to me. For many Mother's Day can be a happy, joyous occasion and yet a difficult, hard day for others. I have many fond memories of my mom, who is sadly no longer with us.
One of the memories that always come to mind this time of year was when I was in the first grade at Bardonia Elementary School. Back in those days, there was no universal busing. I lived just under a mile from school and would have to walk home with my older brother. It was the Friday before Mother's Day weekend and as many children today are doing, we were all working hard to finish up our Mother's Day projects. It was a clay sculpture of some sort. Looking back, I'm pretty surprised that our first grade teacher had us working with clay and paint. It must've been a mess!
But what I remember most vividly was how excited I was running home that afternoon. My older brother and I were racing, no doubt, and in the middle of all that commotion, I fell. The clay sculpture shattered, but in my mind it was easily pasted together. Or so I thought. By the time I got home, I was instantly upset when I realized it would've have taken hours, maybe days to get close to recreating it. There was no way I could fix it before presenting it to mom on Sunday.
When my mother got home from work, she noticed that I was upset. As moms tend to do, she investigated and asked my brother what happened. As you would expect, she was more worried about my skinned knees and could care less about the project. She gave me a big hug and told me she loved it–the thought behind it, ultimately–and that we would work on a similar project together. This story perfectly captures the type of tenderness, love and compassion that so many mothers in our life teach us by their example.
So, on Sunday we pause our busy lives to recognize all the lessons our moms have taught us and the love they have given us. Let's all celebrate the moms in our lives, moms, grandmothers, aunts, sisters, anyone who has nurtured you with unconditional love and wisdom.
On Mother's Day I will be remembering my mom and treasuring all the good memories I have of her. I will also be celebrating my wife Kathy, the mother of my three children. Kathy is the center of our family and I am thankful for her love, support, and guidance. Happy Mother's Day, Clarkstown!