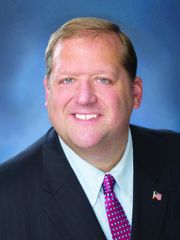 By Supervisor George Hoehmann
Like me, many of you remember the date October 20, 1981. It was a tragic day for Clarkstown, Rockland County, and our nation. The Brinks Robbery occurred at the Nanuet Mall in which members of the Black Liberation Army and Weather Underground stole $1.6 million dollars from a Brinks armored car, killing a Brinks guard Peter Paige, and subsequently killing two Nyack police officers, Edward O'Grady and Waverly Brown.
Judith Clark was a major participant involved in every aspect of the Brinks murders. Testimony during the trial showed that a key part of the plan was to utilize Judith Clark and Kathy Boudin to throw off the police. If not for this decision and premeditation, Nyack Police Sgt. Edward O'Grady and Police Officer Waverly Brown would have had a fair chance and perhaps survived the ensuing gun battle. Instead it was a calculated death trap.
Judith Clark was convicted by a jury trial of 1st degree armed robbery and three counts of 2nd degree murder and sentenced to three consecutive 25 years to life prison sentences thus making her ineligible for parole until the year 2058. Governor Cuomo commuted her sentence last year and she was recently granted request for another parole hearing.
After all shots were fired, Sgt. O'Grady and Officer Brown were slain, after Security Guard Peter Paige had been cut down. No amount of time can mitigate her actions and no claim of rehabilitation can justify her early release.   Our community has suffered greatly, along with the victims' families some of whom still reside in our Town.
In planning, committing and executing her crimes—a triple murder-robbery—Judith Clark demonstrated a blatant disregard for the rule of the law. An attack on law enforcement requires the most severe penalties. The lives of Sgt. O'Grady, Officer Brown, and Security Guard Paige are worth much more than 35 years.
In addition to her terrorist acts, Judith Clark voluntarily refused to participate and comply with the trial court's reasonable decorum requests. She attempted to evade justice and leave the courtroom after proclaiming it had no legitimacy. Once in prison, she tried to escape four years after she committed her crimes. She then attempted to vacate her conviction arguing that the court improperly denied her right to counsel. These actions demonstrate her lack of true remorse.
I have written to the Board of Parole strongly urging them to deny Ms. Clark's request for parole. If anyone would like to join me, please call my office (845-639-2050) or email me [email protected] for a sample letter to send the Parole Board.