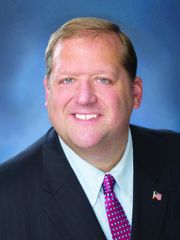 By Supervisor George Hoehmann
Summer is in full swing in Clarkstown. We pride ourselves in offering a wide variety of quality programs and events that are great for residents of all ages and family friendly. From concerts, to camps, to special events, pools, and more, we offer it all.
First, let's cover the ways we can all stay cool this summer. I'm talking about the three pools that Clarkstown residents can enjoy. Residents can register for a seasonal pool pass or pay by the day to enjoy three state of the art pools. Congers Pool is the smallest of the three and is located at Congers Lake Memorial Park. Before or after you take a dip in the pool, you can also enjoy the walkway around Congers Lake and various athletic activities, such as our basketball and tennis courts.
Germonds Pool is located in West Nyack and contains a main pool, diving pool, and kiddie pool with a new zero entry and sprinklers.   Germonds Park also houses a mini golf course, baseball fields, playgrounds, basketball courts and a shaded picnic area.
Our largest pool is Lake Nanuet, which is a quiet setting with many amenities. The bath at both Germonds Pool and Lake Nanuet will be completely renovated when they open.   All residents are invited to join us for free at the opening of Germonds Pool on Serendipity Saturday on June 16th. Lake Nanuet will open on June 23rd. Please check out the www.clarkstown.org for more details about pool hours and passes.
One of my favorite annual events is our Independence Day Fireworks. Celebrate America with us on July 2nd at Nanuet High School. This fun event starts at 6pm and the kids can jump around in bounce houses before the Rockland County Radio Control Club will perform a demonstration at 7:15pm. Then the Mighty Spectrum Band will rock out until fireworks at dusk. Next week, this column will have a listing of all the other concerts that are planned for this summer.
Another great, weekly event is the Farmers Market at the Traphagen Property, which is adjacent to Germonds Park. Each week there is entertainment for the kids while you shop for fresh fruits produce and other delicacies on Saturdays from 9am to 1pm.
And of course we offer a variety of programs for kids. There is still time to register for full day camps, half day camps, and specialty camps. Go to the Town website and Facebook page for more details and to learn about other future events.