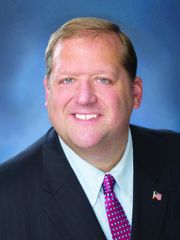 By Supervisor George Hoehmann
"If music be the food of love, play on," Orsino says in Shakespeare's "Twelfth Night." It has been a long-standing tradition to keep Clarkstown's music lovers well fed during the summer months, and this year is no different. I recall packing the kids into the car many summer evenings over at Germonds Park to enjoy the warm summer breeze and live music. It was a kind of soundtrack to our summers.
Then, as now, I know the value of these concerts for families. It seems even more important these days, with so many staring into the screens they have in their hands. These concerts are a great opportunity for families to reconnect with each other and link generations to each other through music. Maybe even a few laughs will be had as some let the music inspire them to break out some dance moves.
The concert series kicks off this weekend on Serendipity Saturday at Germonds Park (which is free for all residents!) as Hit N Run takes the stage at 1:00pm. They will play hits from the 60's to today. Please clip out this article and place it on your fridge so you don't miss the fun concerts we have scheduled this summer:
July 2nd—Nanuet High School—Enjoy Independence Day fireworks and the popular Mighty Spectrum Band, who plays a wide variety of rock n' roll hits.
July 11th—Germonds Park—7:30pm—Relive the rad 80's with new wave, rock, and one hit wonders performed by Ridgemont High.
July 18th—Germonds Park—7:30pm— New York City based Celtic Cross performs a variety of pop and folk infused with Celtic roots.
July 25th—Germonds Park—7:30pm—Get your boots on, lasso up some friends and come on down for Country Fresh's take on contemporary Country music.
August 1st—Germonds Park—7:30pm— Take your "Pink Cadillac" down to the park and relive some "Glory Days" while "Dancing in the Dark" as the B Street Band plays Springsteen hits.
August 7th—Germonds Park—7:30pm— The Nerds are coming back! Enjoy an evening of laughs and the seriously fun musicianship of this very popular, Jersey Shore-based band.
August 8th—Germonds Park—7:30pm—Tom Petty's music lives on through the Tom Petty Tribute Band.
July 10th—Congers Station Park—7:30pm—The Oldies are still the goodies as Rave On celebrates Buddy Holly and other legends of early rock n' roll.
I do hope you bring out your family or your friends and take some time to enjoy one or more of these great concerts! Check www.clarkstown.org for more details.