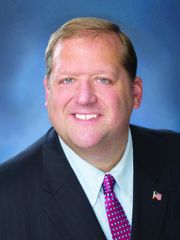 By Supervisor George Hoehmann
Rockland Lake State Park is a wonderful place for many people to enjoy a variety of fun recreational activities. It has always been a tremendous draw to the area and with the reopening of the newly enhanced pool facility, its appeal has and will continue to grow. The ongoing problem is that the crowds that gather each weekend have become not only an enormous inconvenience for surrounding residents, but also increasingly dangerous for them. Protecting our residents and park goers has become a major strain operationally and financially on the Clarkstown Police Department.
This past Independence Day is a case in point. Clarkstown Police Chief Ray McCullagh notified me early that day that the parking lot at the park was already full and park goers were beginning to park all over the streets of Congers and Valley Cottage, limiting access and choking the flow of traffic.
In addition to those unsafe conditions, our police department was called for mutual aid assistance to help quell a number of incidents of disorderly conduct in the park, which may have been fueled by the consumption of alcohol. The possibility of revelers climbing behind the wheel after a day at the park in a similar condition is also a major safety hazard.
The bottom line is that the Clarkstown Police Department generated over $3,300 in overtime for July 4, 2018 and over $7,400 for July 4, 2017. Since January 1, 2015, the Clarkstown Police Department has responded to over 190 calls for service in the Rockland Lake State Park area. That cost is borne fully by the taxpayers of Clarkstown.
This is hardly a one-time phenomenon. Residents have been complaining for years about this situation and the time has come to address their concerns and work together to make the use of Rockland Lake State Park a safe and enjoyable experience for everyone.
After the July 4th incidents, I wrote to the New York State Recreation Office, Palisades Interstate Park Commission and the New York State Police calling for a meeting and outlining these very concerns on behalf of the resident of Clarkstown. Since then, the Clarkstown Police Department and I participated in a joint meeting hosted by County Executive Ed Day. Also at the meeting were, Stony Point Supervisor Jim Monaghan, Orangetown Supervisor Chris Day, Clarkstown Councilmembers Frank Borelli and Pete Bradley, County Legislator Laurie Santulli, Assemblyman Ken Zebrowski, Senator David Carlucci, Sheriff Louis Falco, and a host of other law enforcement and other officials.
The good news is that the State has agreed to pre-plan and add resources to mitigate these issues. A plan of action is now being developed and will be put in place to address the issues of overcrowding at local State Parks on major holidays like July 4th. Thankfully, this long standing issue will no longer be ignored but dealt with in a collaborative manner.
Chief McCullagh and I look forward to working with all interested parties as we develop a long-term, comprehensive plan that adds resources to keep everyone safe while doing so in an equitable and cost effective manner.