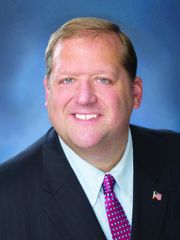 ---
By Supervisor George Hoehmann
Like me, many of you love your dogs. They are part of our families. I have two rescue dogs that are both maltese breed named Ollie and Livvy. My entire family adores them both, although I seem to always be the one feeding and walking them. Even then, you have to give a dog some variety and take them to spaces where they can roam around, run around and meet some fellow dogs.
As dog owners, both Recreation Superintendent Elaine Apfelbaum and I wanted to create a dog park for residents. We found a perfect location at Congers Lake Memorial Park. This Friday, we will be dedicating the Clarkstown K-9 Corrals in honor of Purple Heart Recipient Marine Cpl. Megan Leavey and Canine Sgt. Rex and the Clarkstown Police K-9s. The ceremony will take place on September 21st at 11am at Congers Lake Memorial Park, 6 Gilchrest Road, Congers. Megan Leavey will be joining us and all three of Clarkstown's current K-9's too.
Before we officially finished construction of the Clarkstown K-9 Corrals, residents started using–and their dogs started sniffing around–the facility. And before you could even search for that "Who Let the Dogs Out?" song, residents created a facebook page called "Congers Dog Park Friends." The buzz (or bark) around the whole effort grew very quickly.
So what does the dog park offer for your lucky dog(s)?
The dog park has two areas, one for dogs under 25 pounds and an area for those dogs that weigh over 25 pounds. Both areas have waste bag stations, a leashing pen and and benches.. But the real fun features are the tire jump, dog tunnels, agility hoop and ramps. Safety for dogs and their owners is also of paramount concern to us, so please note that all dogs must have a current Clarkstown dog tag, which can be obtained from the Town Clerk's office.
We are always looking for ways to meet the needs of our community and I am excited that we have created one that we can share with our "best friends." I know that Ollie, Livvy and I all look forward to making new friends at the Clarkstown K-9 Corrals.