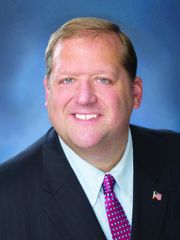 By Supervisor George Hoehmann
A couple of weeks ago I was surprised to listen to a speaker talk about the poor state of volunteerism in our community, especially among the young. I could not have disagreed more strongly. This past weekend I had the opportunity to reflect upon the good work that some of our young people are doing in Clarkstown.
About seven years ago, a young man Austin DiGiorgio was diagnosed with leukemia. The parish community of St. Francis rallied to support the family facing unexpected medical bills and the shock of a child facing a life-threatening illness. My son Thomas had an idea of creating a fundraiser that would be one scoop of performance art and a second scoop of ice cream. With my wife Kathy's support, the Ice Cream Social got off the ground. Eighth to Twelfth grade students write and perform skits and afterwards serve themed ice cream sundaes.
Sadly, Austin died shortly before the performances, but the event raised $16,000 to assist his family.
During the past six years the tradition has continued, with writing sessions and rehearsals taking place throughout the summer, all culminating with the event on Columbus Day weekend—all to benefit a local family facing a crisis. Unfortunately, tragedy knows no bounds. Past recipients included Billy Kenan, a North Rockland teacher paralyzed in a surfing accident; the Karassik Family, after the tragic death of their daughter Larissa who was killed by a drunk driver and Cassie Powell, a 13-year-old girl facing a life-threatening illness. Last year Tom Kennedy, a 40-year-old father suffering from metastasized stage four cancer was the beneficiary.
This year the Ice Cream Social was for Shannon Murphy, an 11-year girl who graduated from Laurel Plains in June only to learn in late July that she was suffering from a rare form of leukemia. Her father has missed work as he stands by her side as she receives chemotherapy. Shannon has yet to enter Felix Festa as was planned in June as she fights her battle. Nearly 700 people attended the two Ice Cream Social performances, raising over $19,000 to help this brave eleven-year-old.
Dozens of students donated thousands of hours to and have raised over $81,000 for these six families. Students have participated from Felix Festa, Clarkstown North, Clarkstown South, Albertus Magnus, Pearl River, TZ, RCDS, Nyack and North Rockland. I am proud of the efforts of my wife and my children Tom and Ciara in coordinating and participating in this program. My heart is brightened to know that our youth are generous with their time, effort, and love to bring hope to others. Life can change in an instant—but love, friendship and volunteerism can make even the worst times more tolerable.
So, the next time you hear a person question the integrity or commitment of our youngest generations remember these kids and others. Trust me: the future is in good hands.