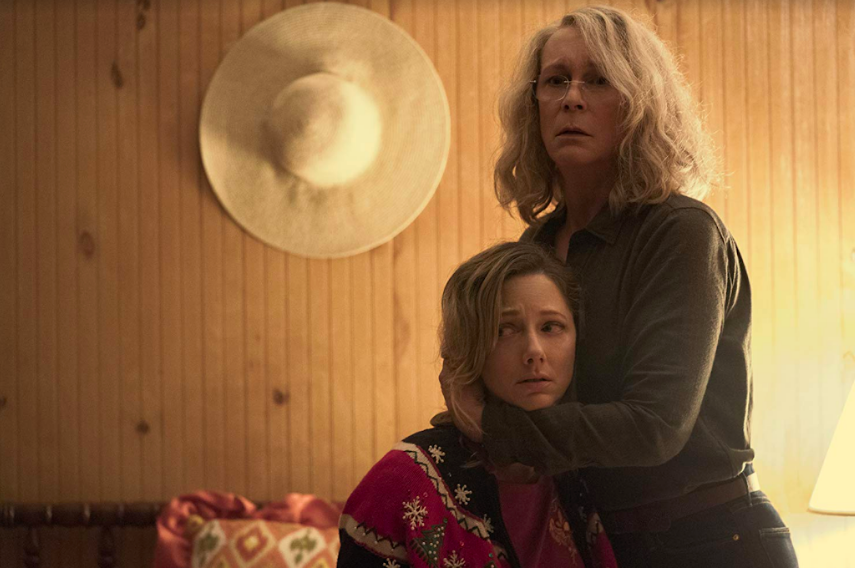 By Vincent Abbatecola
In 1978, director John Carpenter scared moviegoers with his terrifying slasher film, "Halloween," which told the story of babysitter Laurie Strode (Jamie Lee Curtis, in her breakout role) who's stalked by escaped mental patient Michael Myers (Nick Castle). With Curtis' performance, chilling imagery, and an iconic score (also by Carpenter), "Halloween" took a simple story with a low budget and created a film that became an unforgettable entry in the horror genre.
But, as many horror franchises experience, "Halloween" became a victim to a string of subpar sequels, with only the series' seventh entry, "Halloween H20: 20 Years Later," becoming the only decent sequel.
Then, in 2007, director Rob Zombie brought us a remake that abandoned the original's less-is-more approach for blood and gore, and then did it again in 2009 with his mercilessly unpleasant sequel, which made his first movie look subtle by comparison.
After four decades of a series that has had more lows than highs, director David Gordon Green brings the franchise back to most of its glory with "Halloween," which ignores the events of all of the previous installments and is instead a direct continuation of the original film, resulting in a sequel of which Carpenter can be proud.
Forty years after Michael Myers (Castle and James Jude Courtney, sharing the role) murdered three people on Halloween night, Laurie Strode (Curtis) is still living in Haddonfield, Illinois, preparing herself for his potential return, while Michael has spent that time in a sanitarium. When he escapes during a transfer to a maximum security prison, he ventures back to his hometown to locate Laurie for a final confrontation.
Curtis returns in fighting form to the role that made her a star. Once we see her back on screen, it's clear that the spirit of Laurie has never left Curtis, that it has become a part of her. Curtis displays the strain of having her life consumed by the thought of Myers, emphasizing a 40-year buildup for mental stress that she's had to endure, showing us one of two new sides to her character. However, once Michael returns, Curtis brings out the other new side to her role, that of a horror-movie heroine who unleashes all of her strength to take down the evil that has plagued most of her life. Laurie is back with a vengeance, and Curtis delivers a fierce performance.
Although Michael Myers is a nonspeaking role, Castle is still able to give you shivers with his character's slow, calculating movements as be traverses through the streets and shadows of Haddonfield. He brings back the essence of Michael that put audiences on edge all of those years ago, and he reminds us of what has made Michael an enduring antagonist in the horror genre.
The screenplay by Green, Danny McBride, and Jeff Fradley provides depth into the psychological impact that events of 1978 have had on Laurie, and we're given scenes between Laurie and her family (Judy Greer as her daughter, Toby Huss as her son-in-law, and Andi Matichak as her granddaughter) that provide us with a view of the strained dynamics that have taken shape among them over the years. Touches of drama like this are always refreshing to see in a horror movie, as it shows that the narrative is going for more than just scares.
The film has a few clever callbacks to the original, but the rest of them cause a distraction from time to time because of how similar the stories are between this film and the original. There's even an instance where Laurie meets with Michael's new psychiatrist (Haluk Bilginer) and refers to him as "the new Loomis," alluding to the character of Dr. Samuel Loomis, who was played by Donald Pleasence for five installments The actor's voice even sounds like that of Pleasence.
The narrative loses some steam in the second half, which includes a high-school romance subplot that could have been cut out. In a movie that promises a climactic fight between Laurie and Michael, this plot point slows the movie down and leaves you yearning to get to the much-anticipated finale.
As a director, Green shows confidence in taking on a sequel to a beloved classic, providing suspenseful set pieces throughout the film and delivering on a showdown between Laurie and Michael that will have you cheering. And, although this film has its share of blood, it doesn't go too over the top for the sake of cheap shocks.
One of the original film's many noteworthy aspects is Dean Cundey's cinematography, which brings us a four-minute long take that's seen through the point of view of six-year-old Michael, as he walks through his house on Halloween night and murders his older sister at the start of the movie. Green works with cinematographer Michael Simmonds to do their own long take, this time having Michael walk through a residential street of Haddonfield while everyone is trick-or-treating, and it's fun to see them bring their own neat camerawork to the series.
Despite underwhelming sequels and the 40-year gap between the releases of the original "Halloween" and Green's film, this latest installment in the franchise offers enough enjoyment, even with its flaws. If you're ready to celebrate October 31, you might want to put this latest return to Haddonfield in your plans.
Grade: B