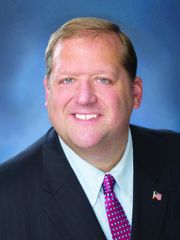 By Supervisor George Hoehmann
The temperature is starting to drop and the leaves have fallen. It's hard to believe the holiday season is upon us. Many of us are running around preparing to celebrate Thanksgiving this week. Thanksgiving gives us all the opportunity to reflect on what we are most thankful for and to enjoy quality time with family and friends.
It is the quintessentially American holiday that truly captures the spirit of "E Plurisbus Unum." We may all have different races, creeds, religions, ideologies or favorite sports teams, but on this day it isn't the differences that matter. What matters are the things that unite us. It is a celebration of family, tradition and a reaffirmation of our ties to one another and as a nation.
I am always most thankful for my family, especially my wife Kathy and children Ashleen, Thomas, and Ciara. I am so proud of everything they have accomplished and I am grateful for all their love and support for me. Our family is always there for each other in good times and bad, to lift each other up.
In the hustle and bustle of preparing all the delicious food we will enjoy on Thursday, I hope you take some time to stop and think about what you are most grateful for and to really enjoy some quality time with those important to you.
A special thank you to all of those who are not able to be with their family and friends, as they are called to duty in many different ways, our active duty military, Police, Fire, EMS, healthcare staff and many others.
A safe, healthy and Happy Thanksgiving to all!