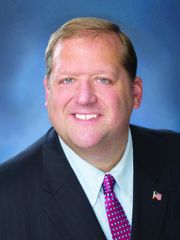 By Supervisor George Hoehmann
The Town is preparing to open our second annual Winter Wonderland at the beautiful Congers Lake Memorial Park from December 13 to January 1.
Families will be able to stroll through the walkway and look at all the beautiful Christmas, Hanukkah, and other holiday light displays while listening to festive music. So many of us enjoy Congers Lake during the nice weather and now we can continue to enjoy the park during the holidays too.
Opening night will be on Thursday, December 13 at 6 p.m. The Town will light the tree and turn on the LED light displays. That night, there will also be a visit from Santa, horse-drawn wagon rides, s'mores, bounce houses, a Lego train display, and a funky sock contest. The Winter Wonderland light display will be open daily from December 13 to January 1 from 5-9:45pm. Also, throughout the month long display, the Town will be collecting socks for a local homeless shelter. Please consider donating socks inside the Community Center.
One of the best things about this time of year is being able to give back to those in need in our community. There are many ways we can help our neighbors and I'm proud that the Town of Clarkstown is doing our part! Having worked for various not-for-profits for many years prior to becoming Supervisor, I know firsthand how helpful the donations and assistance from municipalities and residents can be.
We're once again coordinating the Clarkstown Cares Coat Drive and, with the help of three of our local dry cleaners, we are collecting coats for kids and adults. The dry cleaners will clean the coats and the Town will then bring to three organizations, Martin Luther King Center, People to People, and Advocates for Change. I'm asking you to take a look through your closets and donate any coats you may no longer need. Help us keep our neighbors warm this winter!
The collection sites are:
• Touch of Class, 377 S. Main Street, New City
• Personal Touch Cleaners, 301 N. Main Street, Spring Valley
• Cleanique Cleaners, 53 Bardonia Rd., Bardonia
Every year, the Marine Corp League runs the Toys for Tots program, collecting thousands of toys for children of all ages. We have a donation box located in the lobby of Town Hall. If you would like to donate, please bring toys to the lobby on the second floor.
Also this year, we are participating in the Byne Group's Give a Sock program that collects much needed white, cotton crewmen's socks for the Nyack Homeless Project. A donation box is located in the lobby at Town Hall. For every pair that is donated, The Byne Group will match that pair during the collection period (11/26/18–12/14/18).
As the hustle and bustle of the holiday season surrounds us, it's heartwarming to see the generosity displayed by many of you. I'm amazed by the kindness and willingness of the residents of Clarkstown to help our fellow residents. As we prepare for the holidays, shopping, cooking, spending time with family and friends, I hope you take comfort, as I do, in knowing we played a small role in spreading kindness and the spirit of the holidays.