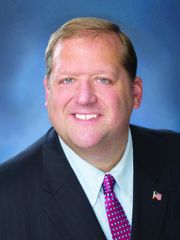 Carry the Load is a national organization founded by veterans to restore the true meaning of Memorial Day.
The not-for-profit has since expanded its mission to provide meaningful ways to honor those who have paid the ultimate sacrifice serving our great country. One of those ways is through its annual National Relay that travels 2,100 miles, each year, from West Point to Texas carrying the American flag.
Five years ago, Sean Magee, a community-minded, Congers resident, who happens to also be a veteran, saw Carry the Load quietly walking through Congers on their very first national relay. He stopped to inquire what they were doing and immediately started making plans for the following year. He brought the idea of a Congers Rally to me when I was a Councilman and we started collaborating.
Clarkstown is fortunate to be one of the locations where a changing of the flag occurs, right in downtown Congers. Each year hundreds of residents, boy scouts, girl scouts, little leagues, veterans, and officials march with Carry the Load into Congers Station Park.
It has become a significant event in our Town as we all join together to remember those we have lost serving our country. It is heartening to see families bring their children out to remember and honor our true heroes. This is how we teach future generations about their sacrifice.
Come join your neighbors and welcome the Carry the Load National relay team to Congers on May 1.
For those that would like to do the one-mile walk with the American flag into Congers, meet us at Old Haverstraw Road and Patricia Avenue by 6:15 p.m. For those that would like to join the event but not walk, come to Congers Station Park on Burnside Avenue for a BBQ, music and kid-friendly fun starting at 5:30 p.m.
To coincide with the event, Anchor Media Services sponsors a scholarship asking high school seniors, "What does Memorial Day Mean to You?" Each year we receive well-prepared, yet sincere, essays from students. The Committee is impressed with the commitment of students and their understanding of the true meaning of Memorial Day.
Many local veterans also join us in Congers to remember their fallen comrades. However, Carry the Load also gives us a chance to thank them for their service. My father was a veteran who served in Korea.
Like many, he didn't talk much about his experience in the service. I have always been so proud of him. I am thankful to have this event to honor him and the many other veterans in our town that I have had the privilege to know.
This event reminds me why Clarkstown is the best place to live. I am proud to see us all come together year after year to honor our heroes in this way. I hope you continue to join us. Let's keep bringing our children to these types of events, teaching them about sacrifice and freedom.
Thank you to all the volunteers, BRiDGES of Rockland County, the Congers VMA, Congers and Valley Cottage Fire Departments, Clarkstown Police Honor Guard and Police Auxiliary, U.S. Marine Corp League of Rockland County, Rockland County Vietnam Veterans and the Nam Knights for participating and helping with the event.
I'll see you in Congers on May 1!