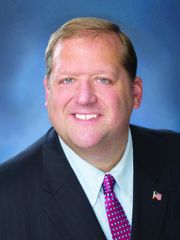 By George Hoehmann
Town of Clarkstown Supervisor
This past weekend, the residents of Clarkstown proudly observed Memorial Day at various events throughout the Town.  It started on Friday with the Town's annual Memorial Day tribute at the newly renovated Street Community Center.
It was a very touching scene to observe elementary school children singing Lee Greenwood's "God Bless the U.S.A." while our local veterans looked on. It was a unifying moment that underscored the importance of what we were remembering that day: those whose lives were sacrificed and cut short, freely given in service to our nation to ensure that another generation of Americans could continue this great experiment in representative democracy.
Unfortunately, while most of us remembered and reflected upon generations of great American heroes, there was someone who did something truly disgraceful in one of our historic veteran cemeteries. As was widely reported, the headstone of an African American civil war veteran was vandalized and his marker was missing from the historic Mount Moor cemetery located near the Palisades Mall in West Nyack.  Lafayette Logan fought in the Civil War with the legendary 54th Massachusetts Infantry.
He was serving his country—fighting for its survival—all while being denied his own equal rights under the law.  It is remarkable that men like Logan would serve under those circumstances.  But serve he did while our nation made its course toward fulfilling its promise and strive (as we continue to do) to form a "more perfect union."
The damage done to Mr. Logan's gravesite was reprehensible. It is my hope that the person or persons who are responsible for their action come forward or are apprehended.  It is this type of disrespectful behavior that characterizes the divisiveness that we as a country cannot afford. As Abraham Lincoln said, "A house divided against itself cannot stand."
We can do better.  As a society we need to share more moments where we find commonality in our ideals, even as we continue to debate the extent to which we are living up to them.  We especially need to be unified in remembering those who made the ultimate sacrifice so we can do so. That is what makes the current debate over our National Anthem at sporting events so disheartening.
Lafayette Logan stood up. Rosa Parks stood up.  At this very moment we have men and women of every American stripe standing to protect us. It is my hope that we all take a moment to stand together before we continue the discussions that may divide us at the moment.
I was proud to join in these celebrations and watch our community come together to have those moments of unity. We all need to pay tribute to all the men and women who died so that liberty and freedom can continue to light our way.  It is our duty to never let them be forgotten.